With support of Galt & Taggart, Crystal placed gender bonds worth 25 million GEL on stock market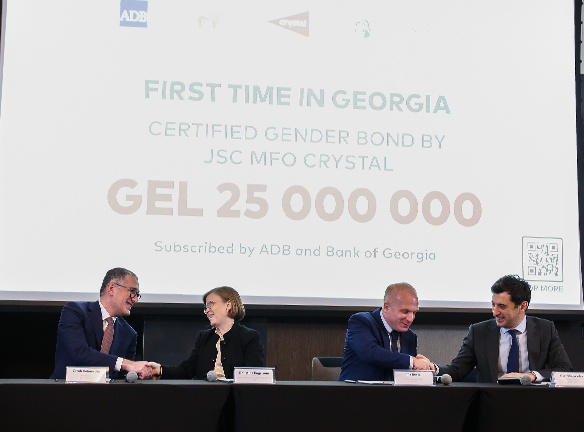 With support from Galt & Taggart and investment from the Asian Development Bank (ADB), microfinance organization Crystal has floated a two-year gender bond on the stock exchange.
With the support of Bank of Georgia as a co-investor and Asian Development Bank as the main investor, the total value of the securities is 25 million GEL. The amount of investment made by the Asian Development Bank is 18.75 million GEL, and Bank of Georgia's share is 6.25 million GEL.
This is the first time in the South Caucasus countries and Georgia when gender bonds were launched on the stock exchange.
Crystal Gender Bonds are social in nature and aim to promote gender equality and women's empowerment. Accordingly, the bonds are aimed at financing micro, small and medium-sized businesses founded by women and their economic empowerment.
Placing gender bonds on the exchange is an important initiative for the country, because micro, small, and medium-sized businesses play a crucial role in the economy of Georgia, creating more than half of the jobs in the country. However, their growth is hampered by limited access to finance. In this regard, women represent a particularly vulnerable group.

Microfinance organizations, in turn, play an important role in increasing access to finance for vulnerable groups, especially low-income borrowers living in rural areas.

"I am pleased to announce the first partnership between Crystal and the Asian Development Bank (ADB). Crystal has always been an active supporter of sustainable financing and small entrepreneurs, as evidenced by numerous corporate awards and investment deals. This transaction is a clear example of ADB and our shared values and serves the purpose of increasing access to finance for women entrepreneurs in Georgia. We also thank our partners –Bank of Georgia and Galt & Taggart – for their active support in this transaction. We hope that such a fruitful cooperation will continue in the future and will ultimately contribute to the economic development of the country," said Ilia Revia, the chief executive officer of Crystal.

"Local currency bonds serve to fill the financial gaps that prevent developing countries from achieving sustainable and inclusive development. Accordingly, the aforementioned bonds contribute to the efficient management of capital by the private sector. In addition, this transaction will contribute to the deepening of the capital market in Georgia and the increase of access to finance for small and medium-sized businesses managed by women by raising awareness about thematic bonds in accordance with international standards," noted Christine Engstrom, ADB's Director of the Private Sector Financial Institutions Division.

"I am pleased that Galt & Taggart was actively involved in the successful implementation of such an unprecedented transaction, acting as placement and calculation agent. This transaction is the third joint placement by Crystal and Galt & Taggart, which demonstrates both the credibility of Crystal and the growing confidence of investors in such transactions in general. It is worth highlighting the unique feature of the transaction, which involves placing the first gender bonds on the Georgian securities market. We hope that more than one such transaction will be carried out in the future, which is especially important for GEL bond issues. I would like to thank and congratulate the entire Galt & Taggart team for another successful and exciting transaction. Galt & Taggart has been effectively cooperating with various representatives of the private and public sector, as well as with international financial institutions, as a leading investment bank in the Georgian market for years," stated Otar Sharikadze, Managing Director at Galt & Taggart.