Global Finance named Galt & Taggart among best investment banks in world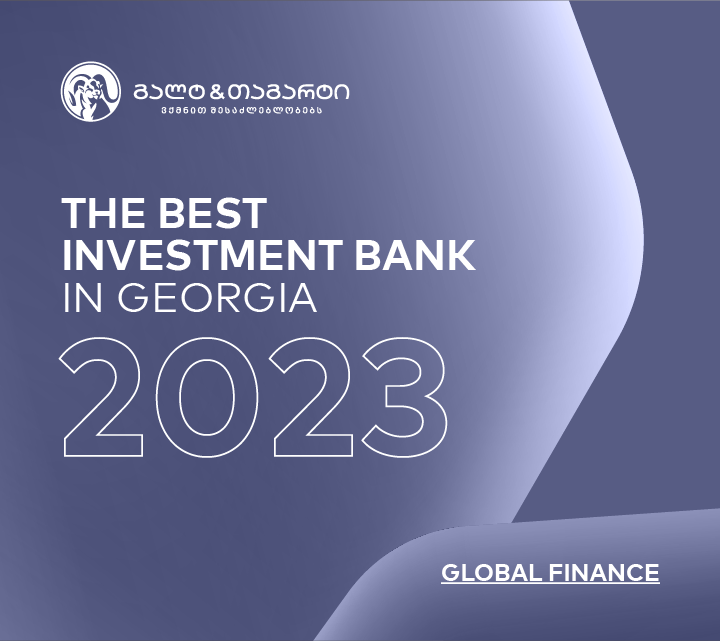 Global Finance published a list of the best investment banks in the world in 2023, and named Galt & Taggart as the best investment bank in Georgia.
The selection process is based on a detailed study of the financial institutions' performance and evaluation by industry experts. The winners are determined by the market share of the investment bank, the number and volume of transactions, their reputation in the market, competitiveness, services and innovations.
Global Finance magazine revealed the list of the world's best investment banks for the 24th time this year. On this list, Galt & Taggart was named among J.P. Morgan, Societe General, Goldman Sachs, Morgan Stanley and other leading financial institutions of the world.
"In the process of decision making, companies attach crucial importance to the advice of investment bankers. Especially, in the crisis period. This year, against the background of record inflation and economic uncertainty in the market, Global Finance is proud to present the leading institutions of this sector, which have earned the title of 'Best Investment Bank 2023' by their own achievements," says Joseph D. Giarraputo, editor-in-chief of Global Finance.
"In light of the current events in the world, this year it was especially important and valuable for us to receive the 'Best Investment Bank' award. Galt & Taggart's global recognition emphasizes once again that our efforts to contribute to the development of the Georgian investment market are headed in the right direction. This is the seventh consecutive award given to us by Global Finance. We will continue to work to create more innovative and effective investment solutions for our customers," said Otar Sharikadze, Managing Director of Galt & Taggart.
Global Finance magazine is one of the most influential financial publications in the world. It was founded in 1987 and has readers in 193 countries around the globe. For 36 years, the magazine has been a measure of the highest standard in the world's financial community.