Galt & Taggart placed 15 million GEL bonds of Micro Business Capital on the Georgian Stock Exchange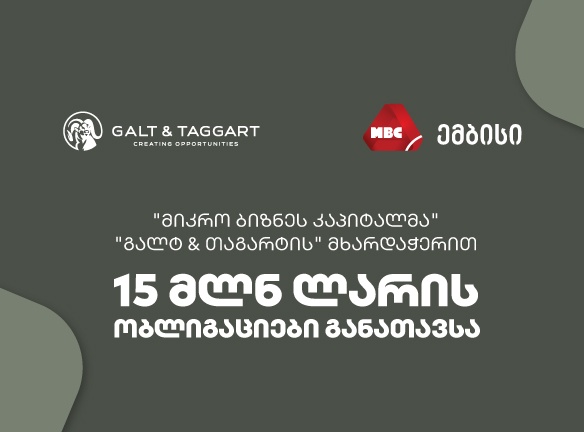 With the support of Galt & Taggart, Micro Business Capital has placed 15 million GEL two-year bonds on the Georgian Stock Exchange. This is the first finance issue carried out by the microfinance organization, which will be fully repaid on December 13, 2024.

According to the representatives of Micro Business Capital, the volume of the annual fixed rate of securities is TIBR3M + 450 bps (450 basis points added to the 3-month Tbilisi interbank interest rate). Based on the fact that the bonds were placed on the Georgian Stock Exchange, the accrued interest will be exempt from tax.

The company received a B+ level credit rating from Scope Ratings.
The mentioned bond transaction is the 1st joint successful placement for Micro Business Capital and Galt & Taggart.
Financial institutions have expressed high interest in bonds. Like other GEL public bonds, these bonds will also be pledged in the National Bank of Georgia, which will give investor commercial banks the opportunity to attract additional resources in GEL at an affordable price.
"The company started working on the issue of GEL bonds several years ago and in 2020 it got the B+ stable credit rating from Scope Ratings. Unfortunately, due to the Covid pandemic, the 2020 bond issue could not be made. Nevertheless, the company maintained its B+ rating and successfully negotiated with Galt & Taggart with potential buyers. With the issue of unsecured bonds of 15 million GEL, we will be able to replace secured obligations and diversify the funds raised. We are glad that we will make a small contribution to the development of the securities market in Georgia, and we will actively continue to work in this direction in the future," stated Tatia Jajanashvili, financial director of Micro Business Capital.

"I am pleased to note the role of Galt & Taggart in the placement of Micro Business Capital bonds and congratulate the company on its first successful placement of bonds. We hope that a number of similar transactions will be carried out in the future, which is probably especially important for GEL bond issues. Together with our colleagues, I would like to congratulate the entire Galt & Taggart team on another success. Galt & Taggart has been effectively cooperating as an investment bank in the Georgian market for years, both with various representatives of the private and public sector, as well as with international financial institutions," stated Otar Sharikadze, the managing director of Galt & Taggart.