Masterclass on Environmental, Social and Governance (ESG) Issues to be Hosted by Galt & Taggart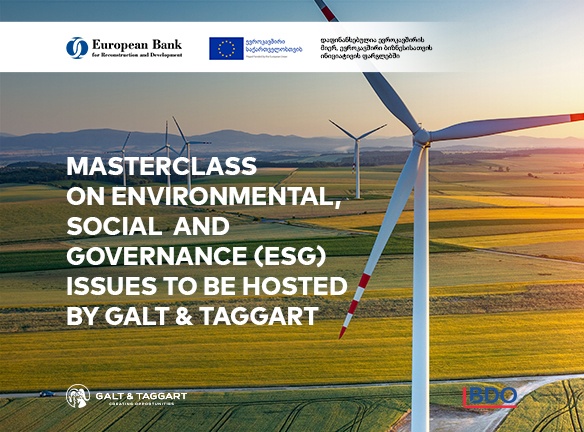 A masterclass on Environmental, Social and Governance (ESG) issues will be held on July 21 at 5:00 PM as part of the Capital Markets Support Program educational series, sponsored by Galt & Taggart.
The event will be devoted to the discussion of topics such as: ESG and the green bond market; ESG/green bond framework development and peer review process; and similar post-issuance disclosure requirements. Companies will also find out what type of support they can get from the International Finance Corporation (IFC) within the scope of issuing ESG/green instruments.
The invited speakers of the masterclass are: Honorata Fijalka (REGIO Lead Europe Central Asia: IFC) and Boris Janjalia (Corporate Governance Officer of IFC).
"The masterclass will provide companies with the necessary information and useful advice on what the environmental, social and governance (ESG) bond market is and how to obtain financing for such projects. On the one hand, this will help companies in their future development, and on the other hand, by implementing sustainable, eco-friendly and social projects, it will bring long-term benefits to the entire society. ESG is an important direction for us – we offer our customers consulting services that help in developing the framework of ESG projects and in attracting the necessary financial resources for their implementation. We are glad that within the framework of the Capital Market Support Program we are given the opportunity to support the better utilization of capital markets by Georgian companies and the implementation of environmental, social and governance issues," said Otar Sharikadze, Managing Director at Galt & Taggart.
Anyone who wants to attend the meeting can use the following link: https://bit.ly/3PvFDb2
For your information, the Capital Market Support Program is implemented by the Capital and Financial Markets Development Team of the European Bank for Reconstruction and Development (EBRD), with the financial support of the European Union. Galt & Taggart, along with BDO Georgia, is providing project-consulting works. Additional information about the project is available at the following link: https://cms.org.ge/