Wall Street celebrates Google's plans for artificial intelligence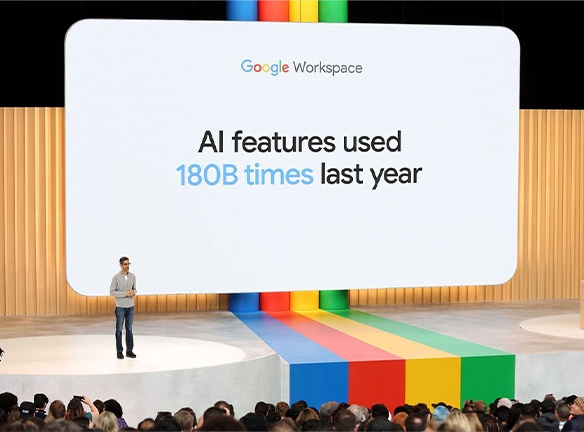 Market Overview:
Stocks slumped Friday after U.S. data showed a decline in consumer sentiment combined with expectations for higher inflation. The University of Michigan's index of consumer sentiment in May sank to a six-month low while its five-year outlook for inflation spiked to its highest reading in more than a decade. For the week, the leading stock market averages turned in a mixed performance, with the Nasdaq adding 0.4% while the S&P 500 slipped 0.3% and the Dow Jones average ended down 0.3%.

News:
Wall Street celebrates Google's plans for artificial intelligence: Shares of Alphabet, the parent company of Google, reached their highest level since August following Google's announcements at its developer conference on Wednesday. Google revealed its plans to incorporate artificial intelligence (AI) into its search product, which will simplify complex queries by combining results from multiple sources. In addition, Google will soon integrate AI into its workplace tools, such as Google Docs, which will allow users to create new documents and spreadsheets more efficiently. Google also announced that it would be expanding the availability of its Bard AI chatbot, allowing it to respond in different languages and images. Industry analysts are optimistic about the potential returns on Google's AI investment, with Morgan Stanley's Brian Nowak noting that the company's announcements will position it as a leader in the AI race and narrow the current valuation gap compared to peers. Overall, Google's recent developments in AI highlight the company's commitment to remaining at the forefront of technological advancements in the industry. Shares of GOOG have risen more than 11% during the week.

Robinhood Markets Beats on Revenue Amid New Features: Robinhood Markets will become the first US brokerage to offer overnight trading in individual stocks, with plans to roll out 24-hour trading of selected stocks and exchange-traded funds, five days a week. The company will start by allowing round-the-clock trading in 43 securities, including Amazon.com, Apple, and Tesla, and all customers are expected to have this option by June. The move could help Robinhood restore some of the platform's buzz after the pandemic-fueled craze in meme stocks subsided. In Q1, Robinhood reported better-than-expected revenue of $441 million and a narrower loss than expected of 57 cents per share. Payment for order flow remains a significant part of Robinhood's business model, with the company making more money by collecting interest on customers' cash balances. Following the Q1 results, Robinhood's expense forecast for 2023 has improved by $30 million, with operating expenses for the full year expected to be between $2.345 billion to $2.485 billion.

Airbnb stock falls after earnings: Airbnb's shares fell 10% in after-hours trading due to its cautious outlook for Q2, as it expects unfavorable comparisons for bookings of night outs and experiences with last year's Q2, which saw a surge in "revenge travel" after the pandemic. However, the hosting and experiences site still expects a strong travel season. In Q1, the company beat expectations with earnings of 18 cents per share and revenue of $1.82 billion, marking its first profitable quarter on a generally accepted accounting principles basis. Gross booking value reached $20.4 billion, driven by a 19% increase in nights and experiences booked compared to the same period last year. The company plans to increase investments in foreign markets, with Brazil and Germany being two of its fastest-growing markets, and its backlog of night bookings is 25% stronger than last year.

Weekly ETF:
ARK Innovation ETF (ARKK): ARKK is an actively managed Exchange Traded Fund (ETF) that seeks long-term growth of capital by investing in ''disruptive innovation''. ARK defines ''disruptive innovation'' as the introduction of a technologically enabled new product or service that potentially changes the way the world works. Companies within ARKK include those that rely on or benefit from the development of new products or services, technological improvements and advancements in scientific research relating to the areas of:
DNA Technologies and the "Genomic Revolution"
Automation, Robotics, and Energy Storage
Artificial Intelligence and the "Next Generation Internet"
Fintech Innovation
Earnings this week:
Monday, May 15 - XP (XP), Tower Semiconductor (TSEM), and Nu Holdings (NU).
Tuesday, May 16 - Home Depot (HD), Sea Limited (SE), and Baidu (BIDU).
Wednesday, May 17 - Cisco (CSCO), Target (TGT), TJX Companies (TJX), Jack in the Box (JACK), and Take-Two Interactive (TTWO).
Thursday, May 18 - Walmart (WMT), Alibaba (BABA), Applied Materials (AMAT), Farfetch (FTCH), Canada Goose (GOOS), and Ross Stores (ROST).
Friday, May 19 - Deere (DE) and Foot Locker (FL).