Rivian is Latest to Embrace Tesla's EV Charging Technology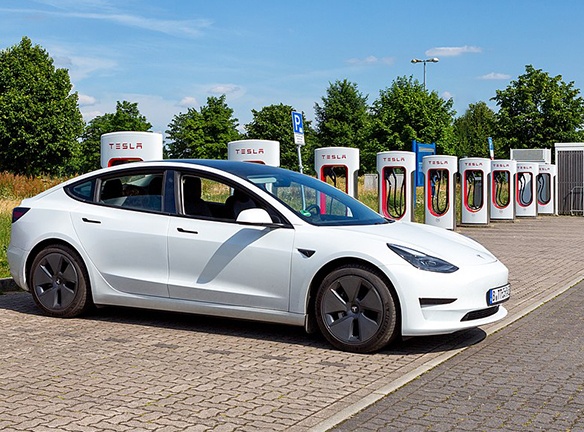 Weekly Review:
Stocks fell on Friday to wrap up their worst week since the collapse of the Silicon Valley Bank in March, indicating the market's three-month rally may have come to an end. Investors were spooked by aggressive central bank tightening overseas, as the Bank of England hiked its key interest rate by a larger than expected half a percentage point, while central banks in Switzerland, Norway and Turkey also raised rates. There are signs that central bank action is finally cooling the economy, as business activity in Europe slowed sharply in June, while business activity also slowed in the U.S. but less dramatically than in other parts of the world. All three major market averages broke multi-week winning streaks: The S&P 500 lost 1.4%, ending five straight weeks of gains, the Nasdaq also shed 1.4%, snapping an eight-week winning streak, and the Dow slid 1.7%, ending a three-week run.
News:
FTC Says Amazon 'Tricked' People Into Joining Prime: The Federal Trade Commission sued Amazon.com, saying the e-commerce company spent years tricking customers into signing up for automatically-renewing Prime memberships and then made it difficult for them to cancel their unwanted subscriptions. Prime memberships cost $139 a year. FTC Chair Lina Kahn said Amazon's practices cost users "significant money." The lawsuit, in Seattle federal court, follows an investigation that began in March 2021. Amazon told Barron's the FTC's claims were wrong on the facts and the law. "The truth is that customers love Prime, and by design we make it clear and simple for customers to both sign up for or cancel their Prime membership," Amazon said. It added it was looking forward to proving its case in court. The FTC said Amazon used "dark patterns" in its website to steer online shoppers. It made it possible to join Prime with one or two clicks, but quitting Prime often required multiple steps designed to make it confusing and cumbersome. Amazon complained about the FTC's investigation, The Wall Street Journal reported. It asked the FTC to quash civil subpoenas issued to founder Jeff Bezos and CEO Andy Jassy, but the agency mostly rejected those requests. The FTC is reviewing Amazon's pending acquisition of iRobot and could try to block it. The FTC is seeking public comment through Friday on its proposed "click to cancel" rule that would require companies to make canceling a subscription as easy as it is to sign up for one.
Bitcoin hits more than 1-year high amid BlackRock ETF excitement: Bitcoin, the largest cryptocurrency globally, reached its highest point in over a year on Friday, following a week of gains. The surge in value was partly attributed to BlackRock's intention to launch a bitcoin exchange-traded fund (ETF), despite increased regulatory scrutiny of the digital asset industry in the United States. BlackRock, the world's largest asset manager, recently filed for the iShares Bitcoin Trust ETF, which would provide institutional investors with exposure to bitcoin through Coinbase Custody. Additionally, EDX Markets, a crypto exchange supported by investment firms such as Charles Schwab, Fidelity, and Citadel Securities, announced its decision to enable cryptocurrency trading. These developments have revitalized investor interest in cryptocurrencies, which had been struggling due to various crypto company failures, including the abrupt downfall of FTX exchange last year. It's worth noting that there are already existing ETFs that offer exposure to bitcoin, such as the ProShares Bitcoin Strategy ETF (BITO).
Rivian is Latest to Embrace Tesla's EV Charging Technology: Rivian Automotive became the latest auto maker to announce it will adopt Tesla's charging plug and technology. Rivian owners also will be able to charge using Tesla's supercharger network, the largest in North America. Rivian shares rose 5.5% on Tuesday, while Tesla's rose 5.3%. The agreement gives Rivian drivers access to more than 12,000 Tesla superchargers in the U.S. and Canada starting in 2024. Rivian's R1T and R1S model owners can access them using an adapter. Future Rivian models will use Tesla's charging-port configuration starting in 2025. Ford Motor and General Motors have similar deals, which are helping to build a potentially lucrative side business for Tesla. Wedbush Securities analyst Dan Ives tweeted that it's quickly becoming "Game, Set, Match" for Tesla regarding the charging landscape in the U.S.
Weekly ETF:
ProShares Bitcoin Strategy ETF (BITO) is an ETF that tracks the price movements of Bitcoin through futures contracts. It provides investors with convenient and regulated exposure to Bitcoin's performance without the need to directly hold the cryptocurrency. By investing in BITO, investors can potentially benefit from Bitcoin's price fluctuations while diversifying their portfolio through an easily tradable ETF. The value of BITO is closely tied to the performance of Bitcoin. If the price of Bitcoin increases, the value of the ETF generally rises as well. Conversely, if the price of Bitcoin declines, the ETF's value tends to decrease. However, it's important to note that the price of BITO may not perfectly match the price of Bitcoin due to factors like fees, trading costs, and market demand.
Earnings this week:
Monday, June 26 - Carnival (CCL).
Tuesday, June 27 - Walgreens Boots Alliance (WBA), Manchester United (MANU), and Jefferies Financial (JEF).
Wednesday, June 28 - Micron Technology (MU), General Mills (GIS), and BlackBerry (BB).
Thursday, June 29 - Nike (NKE), Paychex (PAYX), McCormick (MKC), and Simply Good Foods (SMPL).
Friday, June 30 - Constellation Brands (STZ).