Ford and Tesla's Game-Changing Partnership Revealed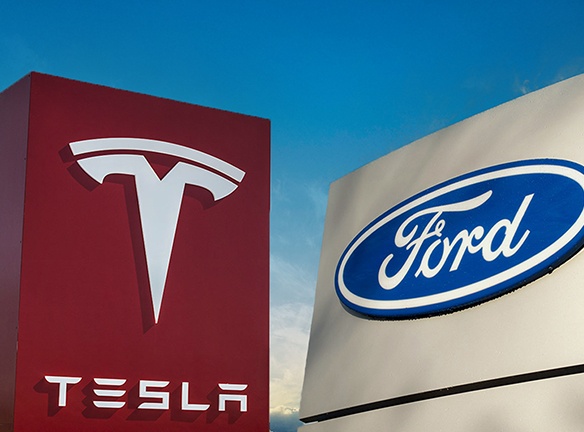 Market Overview:
Stocks rallied Friday on rising optimism that D.C. lawmakers will reach a deal to raise the U.S. debt ceiling, led by the tech-heavy Nasdaq, which closed at its highest level since August. Two-year U.S. Treasury yields rose for an 11th straight session after the latest government data showed inflation picking up more than expected, and Federal Reserve Bank President Loretta Mester said she would not rule out another rate hike next month. For the full week, the Dow Jones index lost 1%, but the S&P 500 edged up 0.3% and the Nasdaq jumped 2.5% for a fifth straight week of gains.
News:
Nvidia shares spike 26% after earnings call: Nvidia reported its first-quarter earnings, beating expectations and driving shares up by 26% on thursday. The company's revenue was $7.19 billion, higher than the expected $6.52 billion. Nvidia's success can be attributed to its development of chips designed for generative AI, particularly the H100 processor. The launch of OpenAI's ChatGPT created high demand for the H100, positioning Nvidia favorably in the race among tech companies and start-ups. The company's sales forecast for the upcoming quarter is $11 billion, exceeding previous estimates and driven by increased data center spending by major tech companies and demand for AI chips. Nvidia's market capitalization surged by $184 billion, approaching a $1 trillion valuation. The H100, based on the Hopper chip architecture, has become a sought-after commodity in Silicon Valley, driving the acceleration of generative AI. Nvidia has scaled up production in collaboration with chip manufacturer TSMC to meet the rising demand from cloud providers, internet groups, and corporate customers. The scarcity of H100 chips has led to wait times of up to six months for some customers.
Ford, Tesla shares jump on Superchargers deal: Ford Motor Co shares surged more than 7% following the announcement of a deal that allows its electric-vehicle owners to access Tesla's charging stations in North America. Ford CEO Jim Farley stated that Tesla's Superchargers could potentially become the standard for EV charging in the United States, but emphasized that the choice would ultimately be determined by the free market. U.S. Transportation Secretary Pete Buttigieg praised the Ford-Tesla deal, highlighting Tesla's extensive charging network. The availability of charging stations has been identified as a significant obstacle to wider electric vehicle adoption. Farley also mentioned that General Motors and other automakers will need to decide between Tesla's EV chargers and the Combined Charging System (CCS), a competing charging-plug standard for DC fast-charging. Ford currently has approximately 10,000 fast chargers, and the agreement with Tesla will double that number.
Marvell shares rocket 32% on earnings beat and 'tremendous' business potential for AI: Shares of Marvell Technology experienced a significant rally, surging approximately 32% following better-than-expected quarterly earnings results. The chipmaker reported adjusted earnings per share of 31 cents for the first quarter, surpassing the consensus estimate of 29 cents per share. Revenue for the period reached $1.32 billion, exceeding the analyst consensus of $1.3 billion. This surge in stock price brought Marvell shares to levels not seen since April 2022. Marvell's CEO, Matthew Murphy, highlighted the increasing importance and business potential of AI during an analyst conference call. The company plans to reassess its approach to AI, considering it a significant opportunity for growth. Citi analysts expressed optimism about Marvell's AI-driven revenue and raised their price target from $58 to $61, maintaining a buy rating. Marvell estimated its AI revenue to be around $200 million in FY2023, with expectations to reach over $400 million in FY24 and double in FY25.
Weekly ETF:
The First Trust Cloud Computing ETF (SKYY) is an exchange-traded fund that seeks to track the performance of the ISE Cloud Computing Index. SKYY provides investors with exposure to companies involved in cloud computing infrastructure, software, and services. Cloud computing is a rapidly growing sector that enables businesses and individuals to access and utilize computing resources and applications over the internet rather than relying on local servers or personal devices. SKYY's portfolio includes a diverse range of cloud-related companies, including major players in the industry as well as smaller, innovative firms. The ETF offers a convenient way for investors to gain exposure to the potential growth and advancements in cloud computing technology. By investing in SKYY, investors can participate in the ongoing digital transformation as more organizations migrate their operations to the cloud and utilize cloud-based software and services for enhanced efficiency, scalability, and cost-effectiveness.